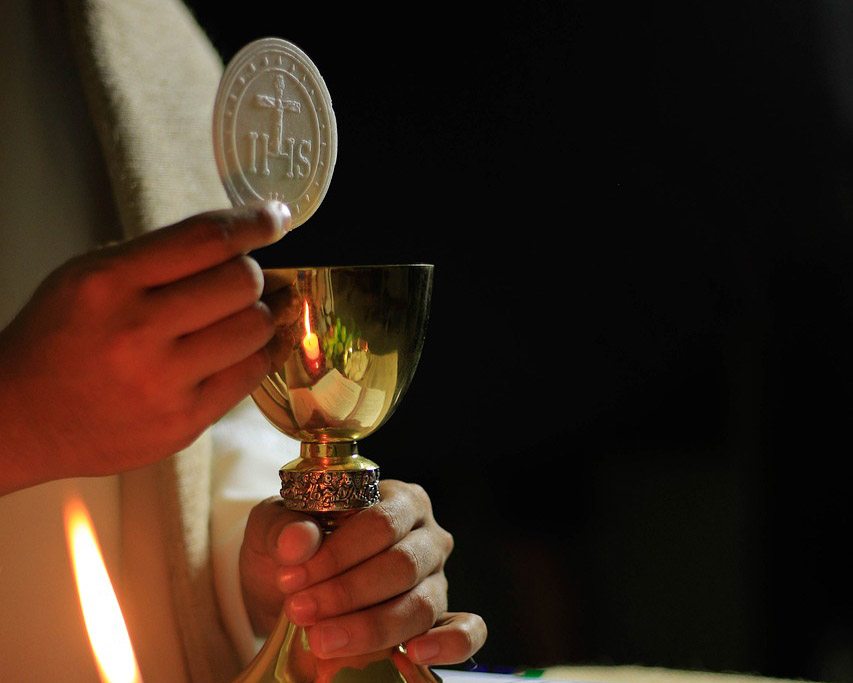 A Eucharistic spirituality is ground-level for life as a Catholic. It's built on the three gospel accounts of the Last Supper, in which Jesus urges his friends to "do this in memory of me." While John's gospel doesn't recount the Last Supper meal narrative, John does have an extended teaching on Jesus as the bread of life in chapter six. Saint Paul also reiterates the Last Supper instruction in his First Letter to the Corinthians: "For I received from the Lord what I also handed onto you."
Jesus employed one or perhaps two well-known forms of Jewish prayer from lifelong ritual practice. One is the berakah or prayer of thanksgiving to God commonly prayed over the bread and the cup. Another is the todah or sacrifice of praise in which leavened bread was used along with prayers of praise. Christians use the word Eucharist—thanksgiving—for our communion liturgy as a whole.
How Eucharist was celebrated developed over time and was distinctive geographically from Jerusalem to Rome to Carthage, and from East to West. But early teachers like Justin Martyr, Tertullian, Cyril, Ambrose, and Augustine agreed that Eucharist had several significant meanings. One was the impact of the Passion of Christ for human history. Another was the unity in which all Christians shared as the Body of Christ. A third meaning was that engaging this sacrament had profound moral implications for those who did.
The medieval church made a swing away from this "symbolic" thinking about the Eucharist to an "instrumental" focus. That is, we went from reflecting on WHY Jesus makes this self-offering to HOW it's accomplished ritually and theologically. This impoverished the church's communion in many ways. The complicated rhetoric was harder to teach to the uneducated, and so fewer understood what was being celebrated. As a result, reception of the sacrament declined. Passive piety and miraculous stories about the Host replaced an active embrace of a moral life formed by an incorporation into Christ's Body. Believers sought to adore the Host than to live a life of thanksgiving and praise.
In the early 20th century, Pope Pius X advocated frequent reception of the Eucharist and to younger-aged children. Pius XII added to those reforms. The Second Vatican Council sought to restore "full, conscious, and active" participation in the Eucharist so that the people of God might again remember that the "why" of Eucharist is more vital than the "how."
Scriptures: Exodus 24:5-8; Jeremiah 31:31-34; Mark 14:22-25; Matthew 26:26-29; Luke 22:14-20; John 6:1-15, 22-65; 1 Corinthians 11:23-26; (see also Constitution on the Sacred Liturgy, Vatican II documents, 1963)
Books: Pope Francis on Eucharist: 100 Daily Meditations for Adoration, Prayer, and Reflection, by Pope Francis, with foreward by Cardinal Blase Cupich (Liturgical Press, 2023)
Communion Ecclesiology: Vision and Versions, by Dennis M. Doyle (Orbis Books, 2000)