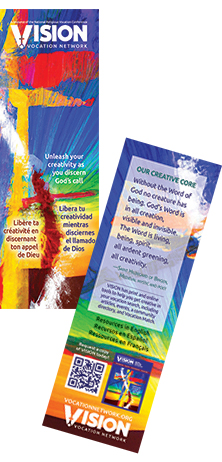 Because of the support of our advertisers and sponsors we are able to provide the following award-winning vocation resources for free. Please use wisely and distribute widely. Spanish and French: VISION features a special Spanish section in the print and digital edition and many additional Spanish and French articles online.

ORDER VISION 2024 Vocation Guide, prayer cards, and posters, publication date Aug. 1, 2023. Use the form below.
VISION community sponsors/advertisers, as a benefit of advertising, your VISION copies are shipped at no cost to you. Please disregard suggested mailing fees. VISION Vocation Guide in print is shipped to the U.S. and Canada only. For other areas and for archived issues, please go to VISION's DigitalVocationGuide.org.