Team spirit: The priest on Villanova's bench
(Photo courtesy of Villanova University)
Father Rob Hagan is the not-so-tall guy—relative to those in basketball—wearing a clerical collar and hanging out near the end of the Villanova University bench when the men's basketball team plays. He's the spiritual anchor of a team that won the 2016 NCAA championship with a thrilling last-second three-pointer by Kris Jenkins on a dish-off pass. With prayer and spiritual guidance, this priest fills a holy spot at his alma mater in the wickedly competitive, wildly secular world of college sports—the last place this former criminal attorney ever expected to be.
Fundamentals for the future
Hagan grew up in a Catholic family in Philadelphia, the third of four children and the only boy. When he was 17 and a student at Cardinal O'Hara High School, his 47-year-old father suffered a brain aneurism. "He went to bed one night, and he never woke up," Hagan says. "Obviously that really stops you in your tracks when you're a teenager in high school. It really forces you to think about life."
Hagan watched his mom suddenly become a widow raising four children alone. "One of the great gifts that my dad gave me is a real acute appreciation for how short life is," he says. "[So] make it count."
Hagan went to Villanova University in Philadelphia. Because it was close by, he could commute to college. "I didn't go to Villanova to become an Augustinian," he says, but in college he was introduced to an array of priests, including Navy chaplains; a priest who was the university's chief financial officer; and Father Peter Donohue, O.S.A., then a teacher and now the university's president. At graduation parties and barbecues, Hagan got to know a good friend's uncle, Father Bill Atkinson, an Augustinian who had been paralyzed in a tobogganing accident—"who carried his cross with such great grace," Hagan says. Atkinson became a mentor to Hagan and is now being considered for sainthood.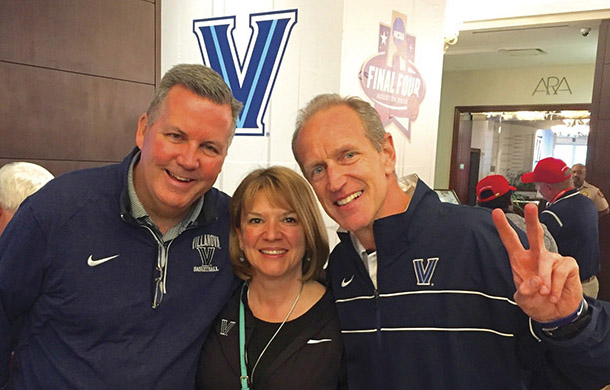 Hagan's oldest sister is a lawyer, so he leaned in that direction, resisting any sense of call to religious life. "I kind of thought a priest is in church 24/7, saying his prayers," he recalls. "I knew that wasn't me. If the idea of priesthood crossed my mind—and it did—I dismissed it because I just felt there were too many other things I wanted to do with my life."
Still, the Augustinians left their mark.
"Aside from meeting the Augustinians, I also met [Saint] Augustine, and his story very much resonated with my own," Hagan says. "Here's a sinner before he was a saint. He tried a lot of things the world has to offer: power, ambitions, success, women, and he came to that wonderful conclusion that we all pray as a prayer from his Confessions of St. Augustine: 'Lord you have made us for yourself, and our hearts are restless until they rest in you.' There's always going to be a bigger house, there's always going to be a better job, there's always going to be money, there's always going to be something more we want to pursue, until we understand that that something more that we're all wired for is our relationship with God."
Preliminary sidebar
After college, Hagan headed toward the law, graduating from Widener University School of Law and joining a small Philadelphia firm.
"My concentration was criminal defense. I was representing a lot of people who did some very colorful things. And in the course of my advocacy for them we often talked about life and how they got into this situation. That conversation could morph into their relationships and their relationship with their higher power," he says. "People in the end kind of thought, what a radical shift to go from attorney to priest. The reality was a lot of the same things I do as a priest I did as an attorney, and things I did as an attorney I do as a priest. You get to represent people, and you become a voice for others, and you deal with their confidences, both their joys and their sorrows. I think, as Pope John Paul II said, that our lives are not a series of random, disconnected events, but rather each one builds on the one that preceded it, and prepares us for the next. That's kind of how I feel—none of this stuff was wasted."
From time to time, the idea of becoming a priest rose up in him—and Augustine himself never disappeared for long.
Put me in, Coach
A simple enough realization made Hagan pivot. "I had won a pretty big case. I was kind of pleased with myself. And I came home, and was having a steak and a beer, I was watching TV and Jeopardy came on. A fellow says to Alex, 'I'll take Quotable Quotes for 200.' As I'm kind of reflecting on my success, watching Jeopardy and having dinner, the quote is 'Author of the phrase, Give me chastity, but not yet.' And the guy says 'Who was Saint Augustine?' And I said to myself, 'I can't get away from this guy.' He just keeps popping up. And I used to think as a kid that priests receive callings, and callings were those kind of radical things like what happened to Saint Paul—he got knocked off his horse. Moses saw the burning bush. I wasn't having those kind of radical, sky-opening moments, so I just figured that's not my calling. What I came to understand is that God calls in different ways, and often it can be kind of a whisper, a sense, and a slight tap on your heart."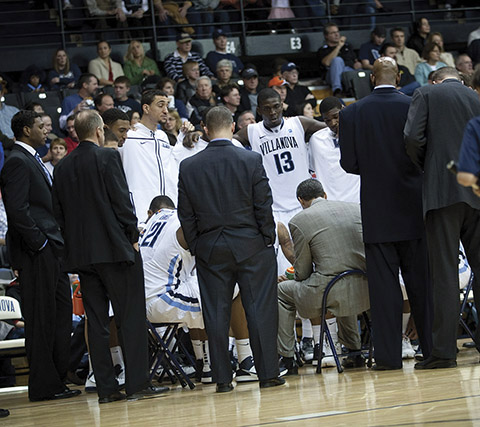 At age 32, after practicing law for seven years, Hagan put the law aside to enter the Order of St. Augustine.
"I think the main reason it took me that long, other than trying to confirm if he was really calling me, was my reluctance to give [law] up," he says. "There was a certain autonomy that I had reached in terms of my professional life. I had season tickets to Villanova basketball and the 76ers, and I used to go in on a shore house with my friends. The notion of giving all that up just was not really attractive. The irony is, here I am reluctant to give up my season tickets, and what does God do? He makes me the chaplain for the national championship Wildcats team. God is never outdone in generosity."
Big playbook
Hagan's work now is a mix of responsibilities: serving as an associate athletic director; as chaplain for the men's basketball and football teams; and overseeing the office of sports medicine, where his legal skills come into play as part of risk management.
While he had been drawn to the idea of marriage and fatherhood before becoming a priest, Hagan says, now "I work in a school where I'm in contact literally with thousands of young men and women." On weekends, he helps at St. Paul's Parish in south Philadelphia, which connects him with families and the broader community.
For the Villanova students, particularly the athletes, Hagan is a quiet, steady force. "He has a very understated way and is a great listener," says Mike Sheridan, director of media relations for Villanova athletics. "He's never pushy."
Hagan keeps an open door—and actually lives in a sophomore dorm on campus. Both there and in the athletics office, students and recruits wander by to talk about matters big and small. Not every student will come to church, Hagan says, so "you meet them where they are."
Although he lives among students, Hagan makes time each day to connect to the Augustinians, who maintain a monastery on campus. Each morning, he goes to Saxony Hall, a house with a small chapel that the order owns near the campus, for prayer and breakfast with several other Augustinians, sometimes returning in the evening for dinner as well.
He values the rhythm of that daily faith connection, and in his work with student athletes, he creates a spiritual rhythm as well. Each year begins with a Mass for the 600 student athletes and their coaches. "We'll ask God's blessings," Hagan says. "Not to win every game, but to bless our year and to help us be the best people we can be."
Quietly, students seek him out when they are struggling—when a relationship has ended; their grades are mediocre; a grandparent has died; they've gone from being a high-school star to warming the bench. He talks to them about "that whole notion of how do you define yourself, and not allowing yourself to be defined by a number or a grade or how many points you scored."
When a student on the women's lacrosse team was diagnosed with cancer, Hagan went to the field to pray with her teammates. A month later, he came back to bless a shawl they had knitted for that player, because "we want her to know she is blanketed in our love and prayer."
Four hours before each men's football and basketball game, the athletes gather for a meal. And before that meal, Hagan says Mass—in the chapel for home games at Villanova; in a hotel room on the road, "with the pancakes and the eggs and the sausages sitting right there in the pans."
He includes the scripture readings for the day and a homily about how those readings apply to their lives. Hagan prays for concerns the athletes and staff have presented to him. "I always try to make it a point to be in that room," Sheridan says. "I find myself uplifted by Father Rob's words. He does a really great job helping center you on what really matters."
Winning with grace
In 2016, the Villanova basketball team played a Sweet 16 game on Holy Thursday. Hagan described for the players how Jesus washed the disciples' feet, and told them: "We can imitate that. We can live that same way." So before they played, the basketball players washed one another's feet.
"The key players, like Ryan Arcidiacano, guys who are now NBA players, the managers, the walk-ons, the kids that don't play, the wives of the assistant coaches, everyone," all were equal in that moment, Hagan says. "We really leaned on those Lenten themes as we marched through that tournament. They embraced the spirit of those values. It affected the way they treated each other and ultimately the way they played."
Jenkins' spectacular last-second shot that won it all was made possible by a pass from one of the team's biggest stars. "That shot was a great shot, but what we also celebrate is the pass," Hagan says. "That play was called for Ryan [Arcidiacano]. That shot's for him to take. But he had the humility and the understanding that my brother's in a better position, so I'm going to give it to him. And everybody wins."
In the locker room after the victory, the message was essentially the same as when North Carolina State stunned Villanova, a heavy favorite, in the second round of the tournament the year before. The word to the players in 2015 was about a higher calling—that "we weren't going to let this loss define who we are," Hagan says.
After winning the national championship in 2016, "the same theme was repeated in the locker room when we were holding the trophy," he says. Coach Jay Wright told the players, "let's not let this be the best thing that ever happens to us. … Go out and be good role models. Let's take this joy and share it with other people." True to his position, Hagan keeps doing just that. 
Related article: VocationNetwork.org, "The creative spirit finds expression in religious ministries."
Comments