
Home
▸
Vocation Guide
▸
Year of Consecrated Life posters, song, banner for use in your parish, school, institute
Year of Consecrated Life posters, song, banner for use in your parish, school, institute
ANNUAL VOCATION GUIDES and BOOKMARKS

VISION 2015 Year of Consecrated Life special expanded issue

Order VISION 2015. Special Year of Consecrated Life issue, which includes a survey on consecrated life, the specially commissioned song "Wake the World with Dawning Joy," and parish posters. Also order our free Year of Consecrated Life Bookmarks.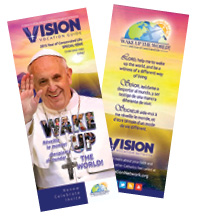 ---
POSTERS
Consecrated life through the ag

es poster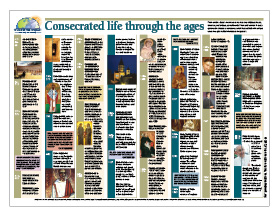 Download a PDF the Year of Consecrated Life poster that also comes in every issue of VISION 2015.
Multilingual "Wake up the world" poster
Click here to download a PDF of the multilingual VISION 2015 Wake Up the World cover poster that also comes in every issue of VISION 2015.








IMPORTANT NOTE: By downloading a poster image file, you agree not to alter the file in any significant way and retain the VISION logo and copyright. You may enlarge the posters or add words such as "With compliments from [your organization or institute name] if you intend to distribute them. You may NOT charge a fee. All rights reserved. This work may be reproduced and freely distributed without prior written permission by parishes, nonprofit educational institutions, campus ministry offices, and other groups and institutions for educational purposes only. No other use is permitted without the express prior written permission of VISION Vocation Guide. For additioinal permission, contact mail@vocationnetwork.org.
---
SONG

"Wake the World with Dawning Joy," specially commissioned song by Steven Warner.


---
Banners
Feel free to download a PDF of VISION's specially designed YEAR OF CONSECRATED LIFE BANNER (size 32 x 80 in), which you may have printed for use in your ministries.

You may also order a printed banner on a retractable stand via the National Religious Vocation Conference's online store at https://nrvc.net/store.



More resources to come!


Comments