Consecrated life: Words of wisdom
FROM THE VERY BEGINNING of the church men and women have set about following Christ with greater freedom and imitating him more closely through the practice of the evangelical counsels, each in their own way leading a life dedicated to God.
—Second Vatican Council,
Decree on the Adaptation and Renewal of Religious Life Perfectae Caritatis, no. 1
PREACH THE GOSPEL at all times. When necessary, use words.
—Saint Francis of Assisi (1122-1226)
IF YOU ARE WHAT you should be, then you will set the
world on fire.
—Saint Catherine of Siena (1347-1380)
EVERY VOCATION to consecrated life is born in contemplation, from moments of intense communion and from a deep relationship of friendship with Christ, from the beauty and light which was seen shining on his face.
—
Congregation for Institutes of Consecrated Life and Societies of Apostolic Life,
Starting Afresh from Christ: A Renewed Commitment to Consecrated Life in the Third Millennium
, no. 9
SIN EVERY AGE consecrated men and women must continue to be images of Christ the Lord, fostering through prayer a profound communion of mind with him.
—Pope Saint John Paul II, Apostolic Exhortation Vita Consecrata, no. 9
SOME OF THE BEST love poems have been written by monks and nuns.
—John Geddes, A Familiar Rain
IN ACCORDANCE with the Divine Plan a wonderful variety of religious communities has grown up which has made it easier for the church . . . to be equipped for every good work and ready for the work of the ministry—the building up of the Body of Christ.
—Second Vatican Council,
Decree on the Adaptation and Renewal of Religious Life Perfectae Caritatis,
no. 1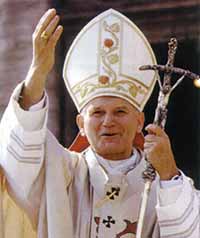 INVITED TO LEAVE EVERYTHING to follow Christ, you, consecrated men and women, no longer define your life by family, by profession, or by earthly interests, and you choose the Lord as your only identifying mark. Thus you acquire a new family identity.
—Homily of Pope Saint John Paul II, Jubilee of Consecrated Life, February 2, 2000
RELIGIOUS ORDERS are not formed for the purpose of gathering together perfect people but those who have the courage to aim at perfection.
—Saint Francis de Sales (1567-1622)
CHERISH God's vocation in you. Let it be constant, efficacious, and loving.
—Venerable Mary Ward (1585-1645), founder of the Institute of the Blessed Virgin Mary and the Congregation of Jesus
ALREADY DEDICATED to him through Baptism, the person who surrenders themself to the God they love above all else thereby consecrates themselves more intimately to God's service and to the good of the church
.
—

Catechism of the Catholic Church

, no. 931
WE ARE NOT CALLED UPON to do all the good that is possible, but only that which we can do.
—Mother Theodore Guerin (1798-1856)
AT LAST I HAVE found my vocation: My vocation is love.
—Saint Thérèse of Lisieux (1873-1897)
DISCOVERING VOCATION does not mean scrambling toward some prize just beyond my reach but accepting the treasure of true self I already possess. Vocation does not come from a voice 'out there' calling me to be something I am not. It comes from a voice 'in here' calling me to be the person I was born to be, to fulfill the original selfhood given me at birth by God.
—Fr. Thomas Merton, O.C.S.O. (1915-1968)
RELIGIOUS LIFE ought to promote growth in the church by way of attraction. The church must be attractive. Wake up the world! Be witnesses of a different way of doing things, of acting, of living! . . . It is this witness that I expect of you. Religious should be men and women who are able to wake the world up.
—Pope Francis, meeting with the Union of Superiors General, Nov. 29, 2013
ACONSECRATED chalices can be used only for the Eucharist. You cannot take the chalice to the dinner table. In a similar way, you cannot take the monk away from the praise of God. No matter what else a monk does, everything is directed toward his singular purpose. . . . A monk who does not praise God needs a tune-up.
——Fr. Thomas Gricoski, O.S.B.
Comments