The art of being a Marianist
In addition to Brother Cletus Behlmann, S.M. (see below), whose work appeared in the 2011 edition of VISION magazine, a number of other Marianist brothers are active artists.
BROTHER JOE Aspell, S.M.
with examples of his work

Brother Joseph Aspell, S.M. works in a broad range of media: stained glass, painting, ceramics, watercolor, furniture, sketching, air brusrosh, sculpture, clay, and graphic design. "My art is trying to show people a larger context for understanding their faith. I think that is where I am most effective: I love to see people learning something new," he says. "Art is a personal emergency. I have to do it. I have to do it or I'll starve to death. It has to do with making meaning—making sense of life. Sometimes, that's a real emergency."
An artist and interior designer as well as a craftsman who does plumbing, electricity, carpentry, and tile work, Brother Thomas Suda, S.M. says his "ministry is about glorifying the living and worship spaces of the people I serve. My projects affect peoples' lives on a regular basis. It affects how we are and what we do," he says. We all need life-giving spaces."
TABERNACLE BY Brother
Tom Suda, S.M.
BROTHER THOMAS
Suda, S.M.
Suda says he "chose this life of living in community and being a prayerful person. . . . I have a familial support system with the brothers and the freedom to be who I am. There's a real bond among Marianist brothers."
Brother Charles Wanda, S.M., who taught high school studio art classes for 40 years, has worked in almost every medium and is now concentrating on oil and watercolor painting along with commissioned design projects.
PAROUSIA BY Brother Charles Wanda, S.M.
"I have always considered my art gifts as a way to contribute to the ongoing creative work of God, especially by works that bring others to the awareness of the beauty of His creation," Wanda says. "In many of my abstract pieces as well as my highly representational work, I have used events from scripture as a way to visually capture a scene or message to hopefully inspire others."
Brother Joseph Barrish, S.M. works in oils, acrylics, and watercolor and also creates collages, linocuts, etchings, and serigraphs (silk-screen printmaking). "[The poet] Gerard Manley Hopkins wrote: 'The world is charged with the grandeur of God! It leaps out like shining from shook foil.' I have marveled at this grandeur since I was a little kid fascinated with a kite flying in beautiful blue skies on breezy March days," Barrish says.
BROTHER JOSEPH Barrish, S.M. at work
"My religious commitment allowed me to explore my talents and to teach others about visual beauty. As a Marianist I have had the freedom to embrace God's grandeur and try to find ways of sharing it through the use of lines, shapes, and colors. It's been a great experience."
Working primarily in clay, Brother Donald Smith, S.M. uses a process in firing his pieces called Raku, an oriental technique which creates lusters and crackles in the finished product. He is also proficient in drawing. He works with pencil and colored pencil and is fond of portrait and landscape subjects.
BROTHER DONALD Smith, S.M.
RAKU POTTERY by Brother
Donald Smith, S.M.
"I find that creating artwork puts me in close touch with 'The Creator,' " Smith says. In other words, I am able to use my time while involved in some pottery or drawing to meditate and contemplate the wonders of nature and our God. As a vowed religious in the Society of Mary, I find many opportunities to offer my artistic services to fellow brothers and their works in the apostolate."
BROTHER BRIAN Zampier, S.M.
painting metal



Brother Brian Zampier, S.M. does sketchbook journaling using color pencils, color pencil sticks, and color markers. He also draws on metal with a
MOTHER PICKING Lillies of the Valley
by Brother Brian Zampier, S.M.
40,000-degree plasma cutter. "I see my sketchbook journal work as a form of prayer, a way of checking in with my Creator, and giving thanks for the day," he says. "My life as an artist and brother flow together as one nurtures the other."
METAL ART by Brother Mel Meyer, S.M.
"If I were not a religious, sustained by my religious community, I don't know if I could create," says Brother Mel Meyer, S.M. "People ask if what I do is religious. Everything I create is religious—because of the inspiration behind it, the motivation for doing it and the impact it has on the people looking at it. My faith and art are inseparable."
Meyer works in many different mediums: fresco, handmade paper, acrylic, sculpture, functional furniture, glass, and metal.
Rainbows on water
Many members of religious communities who are artists paint, and a number of these people work in watercolors.
MANADALA by Sister
Janet Sue Smith, A.S.C.
"For me, art is prayer," says
Sister Janet Sue Smith, A.S.C.
, currently the director of community outreach and volunteers for St. Elizabeth's Health Center in Tucson, Arizona, whose mission is to address the medical and dental needs of the uninsured and underserved. "Since I was very young, I played music for parishes and community settings mostly in liturgical settings. . . . I also had been doing pen and ink sketches for program covers for community celebrations."
After being introduced to the mandala style of painting, Smith, a sister of the Adorers of the Blood of Christ, has painted close to 250 mandalas. She says: "The process of praying my mandalas is a quiet meditative one, allowing all of my external life and work to come together into an 'ahah' moment of a deeper understanding and validation of my life and spirituality and the world around me."
HEALING Incantation
by Sister Stella DeVenuta, O.S.F.
Franciscan
Sister Stella DeVenuta, O.S.F.
used the mandala form as well in her watercolor
Healing Incantation
, originally painted in 1991. Though there were various offers to purchase the piece, Stella knew for some reason that she could not part with it "just yet!"
Healing Incantation
was reborn as a visual image for the Franciscan Common Venture 2009 Peace Conference held in LaCrosse, Wisconsin in August of 2009.
"I can remember being attracted to drawing and painting at a very young age," says Xaverian Brother Edward G. Rice, C.F.X. At 19 he joined the Congregation of the Brothers of St. Francis Xavier. Traditionally, education has been the primary mission of the congregation, and Rice spent many years ministering in the Brothers' secondary schools. Today he teaches watercolor painting to older adults at the Danvers Senior Center.
BROTHER EDWARD Rice, C.F.X.
He has trained with a number of professional watercolorists in Massachusetts. "The beauty of watercolor is its fluid, transparent quality. It is a constant challenge that I strive for in every painting," Rice says.
"Most of my paintings are developed in my studio from a combination of photos and studies of the subject. However, I also like to develop my landscape subjects on location in order to capture firsthand the subject's mood and ever-changing light and shadow. I would characterize my paintings as being rendered in a traditional representational style with an emphasis on energetic design, vibrant color, and strong value contrasts."
WATERCOLOR BY Brother Edward Rice, C.F.X.
The Franciscan Sisters of Little Falls, Minnesota is home to artists
Sister Mary K. Zirbes, O.S.F.
and
Sister Lillian Kroll, O.S.F.
WATERCOLOR BY Sister Mary Zirbes, O.S.F.
In addition to her art, Sister Zirbes has had many roles in her community. She also collaborates with the Benedictine Sisters at St. Joseph, Minnesota on environmental issues, especially water.
"I believe that communing with nature brought me to a deeper communing with God," Zirbes says. "I was always seeking God and did not realize it until, in high school, I came to realize 'God-with-us.' All of creation is in some way an expression of God. I grew deeper in my quest for God that eventually led me to commit myself to the search for God with others in religious life. It has been a great and challenging adventure. Art work centers me; it calms me; it helps me forget everything else that is going on. It is a healing experience for me," Zirbes says.
Of working in and teaching watercolor, she says, "I always remember my desire to develop the skills needed to do really good art work, especially watercolor. Watercolor can be so uncontrollable and yet so freely expressive. . . . It gives me great pleasure if I can assist another, even minimally, to develop some response to that desire. It is like birthing new life. To experience a sparkle of new life in my elder companions/sisters is a gift to them and to me. The experience lifts my spirit and spurs me on."
SISTER LILLIAN Kroll, O.S.F.
with one of her paintings
Sister Kroll has been as a teacher in a number of different settings, offers spiritual direction, and works with the travel industry. When she creates with watercolor, "it flows, it's brilliant, challenging, and inspiring. The paint and water bring out my creativity because of the way colors blend and flow to become what I didn't know they would do or could be."
It's only in the last two years that Kroll's inner artist has been most fully released. After serving as a music teacher, she enrolled in an art class in preparation to become an elementary schoolteacher. She "was shocked and surprised" when a professional painter liked her work, and that professional assessment spurred her to do more and more. "Art touches the spirit," she says. "It brings us into another level of response that we can't get in any other way. Art permeates a person and brings out the finest parts of each of us."
WATERCOLOR BY Sister
Doris Klein, C.S.A.
"My vocation is to be an artist," says
Sister Doris Klein, C.S.A
., "a mirror of creative love, and I am blessed to live that vocation as a member of the Sisters of St. Agnes. As a congregation our mission is to joyfully witness the Risen Christ through teaching and healing ministries. We also give energy to furthering the role of women in church and society. I find our world hungry for the arts and find them vital as we explore our spirituality, especially as new and inclusive images of God call all of us to realize we are created in the image and likeness of God.
"I love watercolor," Klein says."The fluidity and lack of control in this media speak to me often of the divine spontaneity and the surprising movement of grace. The creative process continues to pull me deeper into the mystery of God and myself while inviting those who share the images to do the same."
BRUSH PAINTING
by Sister Sylvia Danno, O.S.F.

Sister Sylvia Danno, O.S.F., a Sister of St. Francis of Assisi, was encouraged from her childhood to develop her artistic skills, and the encouragement continued after she entered religious life. Her degree in English from Cardinal Stritch University in Glendale, Wisconsin prepared her for teaching in the classroom, but after graduation she studied watercolor painting part-time for three summers at the Art Institute in Chicago. Later, at Catholic University, she continued to develop as a painter, but her specialty was silversmith work which led to the creation of a chalice and paten for her M.F.A. thesis project. The chalice is still used today at her community's motherhouse.
Observing Sister Elise Wettstein, O.S.F. doing Chinese brush painting inspired her to try it herself. She said that "as a treat for myself, I decided to take some classes." Sister Clara Han, O.S.F. was teaching brush painting at Stritch, and Danno enrolled in her class. Here she met a group of women and eventually they formed the Oriental Watercolor Society of Wisconsin.
SISTER SYLVIA Danno's scrolls
returned from Japan
Since then she has won five placement awards in the Sumi-e International Watercolor Society Contest. Her pieces are sent to Japan where they are mounted professionally on scrolls for exhibition in Japan, Taiwan, and the United States. After one year they are returned to her.
SISTER SYLVIA Danno, O.S.F.
While Danno was a pastoral minister at her community's motherhouse, she began to work with Sister Judy Placzkowski, O.S.F. for Poverello Prints, a greeting card initiative Placzkowski had begun. Today Danno's watercolor designs are featured in many of the cards published by Poverello Prints. Go to www.lakeosfs.org and click on "Poverello Prints Cards" then select "Sister Sylvia Danno Designs."
SISTER OF
Service Patricia Flynn

"Artwork draws me closer to the world of nature and to people," says Sister of Service Patricia Flynn. "I love to do portraits in pencil for people who sit for me. My perception of people over the years and my familiarity with the subtleties of the face and experience with pencil techniques have developed. . . .
"I do enjoy painting. This I find more challenging and complicated. I prefer working with oils which I find more subtle and richer than acrylics. Scenes of nature attract me. Focusing on expressions of God's handiwork gives me an appreciative and thankful spirit. I want to capture what I see but in a way that says something about my own spirit. . . . God is the Artist and sets us an example by making great variety in all of creation," she says.
WATERCOLOR BY Sister
Patricia Flynn, S.O.S.

Flynn is also a qualified art therapist and encourages those she directs "to do spontaneous art which expresses the person's inner, uncensored thoughts and feelings. By reflecting on their work, participants can be guided to understand themselves better or to express something symbolically when finding words would be too difficult."
The shape of faith
Sister Ann Francis Monedero, O.S.F., a native of El Paso, Texas, is a Franciscan Sister of Our Lady of Perpetual Help who has a studio in Austin, Texas. She studied under the tutelage of the renowned potter and painter Gloria Osuna Perez.
CERAMIC BY Sister Ann Francis Monedero, O.S.F.
Monedero prefers to work with pottery, although she has dabbled in watercolors, stitchery, and poetry. Making pottery puts her in touch with her Chicana roots, the people of brown color, and her Franciscan roots, the grounded-ness of Mother Earth, she says. While throwing a pot, she has to be centered and focused, and this method of contemplation becomes her prayer.
"Using clay from Mother Earth enhances my connection to Mother Earth and my commitment to honor her innate sanctity," she says. "As the Jesuit priest [Father Pierre] Teilhard de Chardin, said, 'We touch the things of earth and call them holy.'"
Sister Melissa Anna Letts, O.S.B. is a Benedictine of Mount St. Scholastica in Atchison, Kansas. She lives and works at the community's Red Plains Spirituality Center in Oklahoma City. As a citizen of the Muscogee (Creek) nation, she has a special affection for art which uses the simple and beautiful resources of nature and her ancestors.
SISTER MELISSA Anna Letts, O.S.B.
"The first time I saw gourd art at a Native American festival," she says, "I so enjoyed the beauty and simplicity." She asked the artist and was advised to start small. "I made some Christmas decorations and was hooked." Since then her works have become larger and more complex.
Benedictines are rooted in the advice that begins their rule, the word listen. Their contemplative life leads them to deepening recognition that listening applies not only to spoken words. Letts says of her creative process: "Sometimes when I pick up a gourd, I just know what I want to do with it from its appearance. Other times I will sit for some time before the design emerges. This listening within, allowing the gourd to speak, gives birth to the gourd's beauty."
Benedictine life also celebrates the importance of beauty and the gifts of the monastery's artisans. Letts' works have been displayed at the Red Earth Festival and other shows in Oklahoma and are sold in the monastery's gift shop. More importantly, her art is an integral part of her ministry in parish and spiritual direction work.
SISTER MELISSA Letts Anna, O.S.B. with examples of her gourd art
CERAMIC BY Brother Ted Novak, S.A.
Brother Ted Novak, S.A.,
a Franciscan Friar of the Atonement at Graymoor in Garrison, New York, is a professional ceramicist and considers art his ministry (
more
about Brother Ted). A prominent local artist, Novak is a member of the Valley Artists Association and the Garrison Art Center. His works have been exhibited at numerous galleries, churches, and temples throughout New York's Hudson Valley.
BROTHER TED
Novak, S.A.
"The Franciscan Friars of the Atone-
ment are known for their ecumenical and interreligious work," Novak says. "Through my art, I have contact with people of many faiths. I hope that I am able to give them an understanding of the Roman Catholic faith."
ICON BY Father Boniface Von Nell, O.S.B.
A brush with God
Father Boniface Von Nell, O.S.B. has been a Benedictine monk of St. Anselm's Abbey in Washington, D.C. since 1986. During his boyhood in Philadelphia he was first attracted to the spiritual aura of icons in an Eastern rite church he occasionally visited, and at age 68 he attended his first workshop to learn to write icons.
FATHER BONIFACE
Von Nell, O.S.B.
He has written icons of the Madonna and Child, the Annunciation, Saints Michael and Gabriel, the prophet Elias, and others after the ancient icon Eastern writers. Some of his works are on display in the abbey and are reproduced on the abbey's Christmas cards.
Sister Julie McGuire, C.S.C., a member of the Congregation of the Sisters of the Holy Cross, feels "connected with God" when she paints her icons of the Holy Family and the saints. Hoping to discover a meaningful retreat experience, McGuire had happened across an ad for a spiritual workshop in 2000 called "A Brush with God" with iconographer Peter Pearson (whose book had also gotten Sister Jeana Visel, O.S.B. interested in icon writing; see the "Inspired images" article in the digital and print editions of VISION 2011).
MOTHER OF GOD-Mother of Tenderness,
icon by Sister Julie McGuire, C.S.C.
That week changed her life. Spurred by this experience and other Pearson workshops, she began to focus on the technical skills involved in icon painting as well as the spirituality of creating an icon.
"My first icon was of the Blessed Mother," says McGuire. "During the workshop there was conversation about Mary and how she was perceived and loved. I learned so much about her."
SISTER JULIE
McGuire, C.S.C.
"With each icon I paint, I learn more" about the saints, she says, "and it has made my religious life much more meaningful. The saints I paint have become my friends. I can go to them in prayer and they seem to respond to my needs."
Always fascinated with different kinds of artistic media, Sister Clairvaux McFarland, O.S.F., of the Sisters of Saint Francis of Rochester, Minnesota, spent her early years of ministry in teaching and administration of elementary parish schools. But the church renewal in the wake of Vatican II made it possible for many religious to follow their dreams and to use talents long-sequestered in deference to the regular work of their communities.
ONE OF THREE icons by Sister Clairvaux
McFarland, O.S.F. commissioned
by New Melleray Abbey,
a men's Trappist community
in northeastern Iowa
After earning a master's degree in education, McFarland began and continued the study of icons under Vladislav Andrejev, founder of the Prosopon School of Iconology. She has written icons of every size, many for churches and other institutions. At present she works daily at completing commissioned icons of the Nativity and Teresa of Avila.
"Because writing an icon requires contemplative prayer," McFarland says, "it provides the richness of silence and solitude necessary for success in writing icons." This richness has deepened her prayer life.
"Creating the beautiful is an expression of who God is in our world," says Sister Suzanne Marie Phillips, S.N.D., a member of the Toledo Province of the Sisters of Notre Dame. Being an art teacher at the Charleston Catholic School in Charleston, South Carolina—the only Catholic school on the peninsula in South Carolina—allows Phillips to teach children how to express themselves, which is her vocation.
SISTER SUZANNE Marie Phillips, S.N.D.
and one of her sculptures
"I love coming up with a variety of art projects for our students and I also teach art history," she says. "All 176 students have art class once a week and I also teach two special classes to grades 1-2 and 5-8 four times a week," she explained. Charleston Catholic School students enter area art shows and compile their artwork for an annual school calendar.
As a high school student she attended Notre Dame Academy in Toledo and had Sister Mary Geneva as her art teacher. "Sister Mary Geneva and I both loved art history and she was a great mentor to me. She taught us a prayer that I still use with my students: 'God help us to know the truth, do the good, and create the beautiful,' " Phillips says.
ENAMEL BY Father Stephen
Rossey, O. Praem.
While teaching at several high schools, Norbertine
Father Stephen Rossey, O. Praem.
also studied art during the summer at the University of Notre Dame and the Philadelphia College of Art, earning a M.F.A. degree in 1966 from Notre Dame. While at Notre Dame, Rossey studied under Kenneth Bates, an internationally known enamelist with the Cleveland Art Institute. Under his tutelage Rossey also became a highly regarded enamelist/artist. Rossey founded the art department at Delaware's Archmere Academy, and in 1984 he returned to his home community of St. Norbert Abbey, DePere, Wisconsin, becoming abbey artist, among other positions.
FATHER STEPHEN
Rossey, O. Praem.
In addition, Rossey became a certified liturgical space consultant and served for many years on the Green Bay Diocesan Worship Commission for art and environment in Catholic worship. He is respected among art and environment coordinators in the area and beyond for his artistic abilities and values, especially
nequid nemis
, "nothing to excess."
FATHER JAMES Neilson, O. Praem.
Another Norbertine involved in the arts is
Father James Neilson, O. Praem.
He earned his M.F.A. in three-dimensional mixed media sculpture from the Vermont Studio School and is currently an art professor at St. Norbert College. Lecturing across the country on art and faith, he has also been a college artist-in-residence. His award-winning work has been featured in a number of shows.
A trained artist for many years who has taught high-schoolers, seniors, and members of her community in formation, Sister Eileen Tomlinson, C.PP.S., a Sister of the Precious Blood, works in a number of media: oil, acrylic and watercolor painting, pen-and-ink illustration, calligraphy, and sculpture and wood carving. Now 91 years old, she lives at the sisters' motherhouse in Salem Heights, Ohio where her specialty is carvings of Mother Maria Anna Brunner, the Swiss-born foundress of the Sisters of the Precious Blood.

SISTER EILEEN Tomlinson, C.PP.S.
at work on one of her carvings
"The congregation has been my life," she says. "Chosen by the Lord and endowed with talents, I try to live our Precious Blood spirituality happily and joyfully with an increasing awareness day by day."
For
Father José Cardoso, S.V.D.
, a member of the Society of the Divine Word, the purpose of his work as an artist is to involve the community and teach the Word of God. The artwork itself is not the important result; The meaning behind the work is what matters to him.To begin, Cardoso asks parishioners to bring a specific type of item, such as soda cans. Items for other projects have included empty water bottles, portrait photographs, and prescription bottles."It's a common process. Everyone feels a part of the process." Once he has the objects, he starts "by wondering how I can use them. What's the meaning of the thing? What can you read of the thing? What's the parable?"
Coca Cola Jesus (right) is "an appeal to conversion. Out of something that was old and a waste we can make something new. Every human is able to change and become something new," he says.
"Each one of us makes up the Body of Christ. If one can [in Coca Cola Jesus] disappears, then we lack something. The cans were different. The colors were different, but the bottom of the cans are the same. All of them are equal. Apart from our individuality, we have something in common: spirituality and a willingness to meet God and discover who we are and where we're going."
Says Father Dino Vanin, P.I.M.E., a member of the Pontifical Institute for Foreign Missions: "In reading spiritual books, many times, I have come across a goal . . . for every believer to strive for: the one of being creative. . . . Creativity is not reserved for the elite privileged few, mostly artists, but is truly in every single one of us."
"The spark of working creatively with wood came to me from God via my grandfather and dad," he says. "I see my woodshop as a temple where God is pleased to dwell. In fact I praise Him often for the infinite variety of patterns in the grain of the same type of wood. . . .
FATHER DINO Vanin, P.I.M.E.
"It is obviously a great blessing to have received this specific spark of creativity on account of my calling in life as a missionary priest. I can save money and time fixing things myself or building out of wood things that are commonly made with steel or the ubiquitous, yet boring, plastic. In Italy and in the [United] States, I built mostly church furniture such as altars, lecterns, podia, chairs, kneelers, all according to the style of the church or chapel for which they were meant. But in Thailand my skill was in higher demand, yet mostly to fix a vast array of things that were . . . ordinary."
Recently Vanin participated in the restoration of PIME's 80-year-old North American headquarters in Detroit. He repurposed wood from inside the building to create many of the chapel's furnishings. "The work was enjoyable; I did it in my spare time and I looked forward to it," says Vanin, who worked nearly six months on the project. "I didn't do this for myself . . . it was a lot of work . . . it was challenging, but it was fun."
Illustrating the divine
"My art is a holy calling arising from God's presence, especially the feminine face of God," says Sister Frances White, S.H.C.J. "I am compelled to make art that begs that questions be asked or preconceived notions be examined. Underneath the surface, tangled in title or image, are invitations to see the world through the eyes of others or to look more deeply inside. I make art that is the call of the sacred, an invitation to live respectfully and lightly on Earth, a summons to honor our interconnection with all that is now and from age to age throughout time."
EACH BOWED and Worshipped at the Other's Cross,
pastel by Sister Frances White, S.H.C.J.
Although she considers herself a painter, a lot of her work has been with color pencils and pastels, and she has begun working in mixed media and assemblages. "My vocation as a Sister of the Holy Child Jesus is inseparable from my vocation as an artist," White says. "Both are the result of God's calling to me, and since my art flows from prayerful reflection on life, it is at the core of my response to God."
SISTER FRANCES White, S.H.C.J.
PAINTING BY Sister
Mary Em McGlone, B.S.N.
After 55 years in the field of health care, half of which as founder/director of a center for education and client services in complementary health care, Medical Mission Sister Mary Em McGlone, B.S.N. stepped out of that role in 2007 and picked up the threads of a lifelong passion: art.
She relied on her background in art to produce posters, flyers, brochures, and ads for the center but also began painting and doing some stained glass projects and silverwork while engaged in health care. She taught classes in making jewelry, using the Precious Metal Clay process.She is a firm believer in creativity as part of the healing process.
SISTER Mary Em
McGlone, B.S.N
"From my background in complementary health care, I know how much stress results from negative images. We are exposed to such images throughout the day. I want my work to be uplifting, to evoke feelings of peace and delight in the beauty of creation. I paint images of life—people, animals, landscapes. When others look at my paintings and say 'I'd like to know that person' or 'I feel like I am there, in the picture,' I know that the person is experiencing what I am trying to convey—that 'all life is good, all life is holy.' "
SISTER ELAINE
DesRosiers, O.P.

Sister Elaine DesRosiers, O.P. is a Dominican Sister of Peace who has had a long ministry as a teacher, administrator, and media specialist before taking time to develop her artistic skills. For 20 years she studied oil painting so that when she retired she would feel confident about her work.
"At present I am doing just that," she says, "painting up a storm, mostly architectural scenes, houses, farms, and street scenes. In the spring 2010 semester I shall teach a course . . . on Dominican history and heritage. Doing this will enable me to use another of my visual artistic skills. My painting is also a fulfillment of my vocation because time spent creating art is a contemplative experience of God the Creator who allows us to be cocreators of images of God's world."
ST. CATHERINE Farm by Sister Elaine DesRosiers, O.P.
New connections
After years of parochial school teaching, Rochester, Minnesota Franciscan
Sister Cecilia Rolling, O.S.F.
volunteered to join other Rochester Franciscans in Bogotá, Colombia, South America. There she spent time as supervisor of a day-care center and then was librarian for the Colegio Santa Francisca Romana.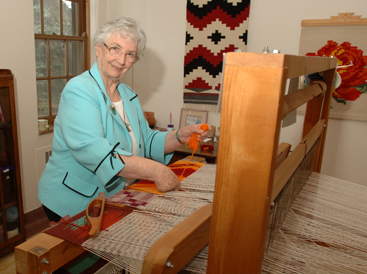 SISTER CECILIA Rolling, O.S.F.
Upon returning to the United States, she worked with religious education in south Texas for 12 years and then enjoyed a sabbatical in New Mexico. Here she took classes from a master weaver and began full-time weaving in 1995. Since then she has exhibited in various art galleries and won several awards.
Her work, coming out of her lived experiences, is a combination of Native American and Hispanic themes. Rolling says: "As I weave, I find myself connecting with God in a new way. It helps me to review those years in Bogotá, in south Texas, and in Albuquerque. All those encounters become, as I am working, a part of my soul."
BROTHER SYMEON
Gillette, O.S.B.

A ministry in glass
Brother Symeon Gillette, O.S.B. joined the Benedictine monks of the Abbey of Saint Mary and Saint Louis in 1977. After making his first profession of vows he began working in the arts with students in the abbey's Saint Louis Priory School. He specialized in the calligraphic arts, manuscript arts, and stained glass and founded a student-run organization known as the Saint Columkille Guild of Artists.

"I have always drawn from the rich cultural tradition of the church through the ages in my classes, for the gospels narratives seem to come alive especially in the works of the medieval masters", Gillette says. "It has been a way for me to celebrate and give witness to the Word of God in a visual way with my students through the work that they create with their own hands."
ONE OF Brother Symeon Gillette, O.S.B.'s
panels from the life of Saint Benedict;
After completing 25 years of teaching, Gillette is now pursuing a long-time dream of living in solitude as a monastic hermit focusing on intercessory prayer, but he still works on stained glass for the community's new monastery building.
St. Louis Abbey is also home to Brother Mark Kammerer, O.S.B. His favorite art is photography, which he teaches to the 7th, 8th, 9th, and 10th grades in the priory school, but his four specialties for his bachelor's degree in studio arts from Maryville University were in photography, watercolor, jewelry and metalsmithing (especially silversmithing), and ceramics. He also has had experience in stonecutting.
SISTER MARY
Baird, P.H.J.C

Art in many media
Naturalist/artist Sister Mary Baird, P.H.J.C. believes art is not separate from anything else. Art in her view is functional beauty. She believes in the Japanese wabi sabi traditional understanding of finding beauty in all that is incomplete, imperfect. and impermanent. Creating art, she says, is also fun. Her artistic gift has led her to work with environmental, 3-D, multimedia, metal, enamel, cloisonné (a form of enameling), and clay forms of art.

"You can't separate art from life. If your work is truly from the void, then when you create you enter into a 'zone,' " Baird says. "This zone is really a silence that blocks out the self. I understand the will of God as doing whatever helps the flowering of life so whatever we do that creates and unfolds life is what we are all supposed to be doing with all the energy we can muster."
A "COB COTTAGE" built by Sister Mary Baird, P.H.J.C.'s MoonTree,
a community that shares an interest in nature, art, and healthy living
SISTER MARY Polutanovich, D.C. displays cards
she assisted Creation Station clients in making
In 2005 Daughter of Charity
Sister Mary Polutanovich, D.C.
and others opened Creation Station, an art ministry in Milwaukee, Wisconsin, the mission of which is "to serve persons who are poor through the visual arts and spirituality, helping them to develop their God-given creativity." Those who come to Creation Station learn to paint, draw, crochet, sew, quilt, work with clay, and make paper, cards, and jewelry, among other activities.
Polutanovich's talent as a visual artist also helps her reach women in the Milwaukee prison system. "Using art at the prison helps the women sense their own inner beauty. Self-esteem is increased as the inmates discover their ability to create. Card-making is one of the projects that serves as a connection to their children and families. Some of the women crochet scarves, hats, etc., to be sold at the yearly prison art auction. Proceeds from the sale are given to a women's and children's shelter, as a way of giving back to society," she says. Polutanovich also uses art in retreats and spiritual direction.
SISTER REGINA Marie
Fronmüller, O.S.U.
"Painting in the s
umi-e
[Asian ink painting] style gives a sense of mystery, awe, and wonder to a painting, be it flowers, bugs, a landscape, or some foliage," says
Sister Regina Marie Fronmüller, O.S.U.
, an Ursuline Sister presently living in community and working in New Orleans. "The bamboo brush stroke is unique, bringing surprises that will never be repeated. It's a 'present moment thing' that just happens!
SUMI-E PAINTING by Sister
Regina Fronmüller, O.S.U.
"So, too, for my religious vocation; isn't each day special to its own?" she says. "Does not our God surprise us with miracles each day, each moment—if only we are awake, listening, and attentive to the spirit? It's like painting on rice paper: A single stroke with the bamboo brush creates a shape, then it fades out. Add a stroke of red or black and it gives definition and brings out the shape. Wow! At that moment, stop, look, wonder. To pause and be, to sit in the presence of our God, is to be filled with God's Spirit."
A number of the artist-religious featured in the print and online articles work out of Milwaukee's Art Studio, a sponsored ministry of the Sisters of the Divine Savior located on the third floor of Divine Savior Holy Angels High School. The Art Studio is marking its 25th anniversary this year. In addition to the sisters, Barb Braatz, who has worked at the Art Studio since 1985, mattes and frames the art pieces and is the Studio's business manager.
CARD DESIGN by Sister Karlyn Cauley, S.D.S.

Sister Karlyn Cauley, S.D.S., a traditional folk artist and a member of the Art Studio, says: "Our Art Studio introduces people to the Sisters of the Divine Savior and our mission. It is a welcoming, reflective space where people find some quiet during a busy life; they can see artists at their work and receive services for matting and framing of the pieces they bring here as well. A visit to the Art Studio of 14 rooms becomes a comfortable introduction to Sisters they have never met—they leave with a sense of peace.
SISTER KARLYN
Cauley, S.D.S.
"We try to be present to the people who visit," Cauley says. "Because of the peacefulness, some share their stories of joy and pain with us. We are good listeners. We have created relationships with many of our clients and shared the special moments of their lives through our art work. I hope my ministry as an artist brings joy and beauty into their lives, homes, and businesses."
DESIGN BY Sister
Terry Eppridge, O.S.U.
"First and foremost I am an artist," says Ursuline
Sister Terry Eppridge, O.S.U.
"Because I entered a teaching group of religious, for many years I taught art. At present I have a design studio and specialize in computer graphics and calligraphy. Much of my computer graphics work is done for groups that cannot afford the prices of a commercial studio. And the calligraphy often takes a spiritual turn."
"The discipline of religious life facilitated my spiritual development," she says. "This in turn feeds my art, not in terms of subject matter or technique, but in some other less obvious way that I sense but cannot put words to. The community orientation of religious life has been both helpful and challenging."
PHOTOGRAPHY by Sister
Caroline Benken, C.S.J.
Sister Caroline Benken, C.S.J. says of her photography: "Gifts from God are ways that I find some revelation of God. Much of my photography reveals God's beauty. But I also see God's compassion and love in human faces, power in ocean waves and waterfalls, grandeur in towering mountains, and awe in a little raindrop that reflects the sky while it clings to a branch.
SISTER CAROLINE
Benken, C.S.J.
"For this reason I approach my photography as a step into a meditative experience and look for what God will reveal to me in the process. . . ."
Sister Nancy Bauer, O.S.B. is currently the prioress of Saint Benedict's Monastery in St. Joseph, Minnesota. She cultivates quiet and mindfulness within the liturgical prayer of the monastery and also through her photography.
Bauer has her own deer stand on the edge of a wooded piece of property on the monastery grounds that borders a restored prairie filled with native grasses and wildflowers—but in her case, she shoots deer with a camera, not a gun. Yet sometimes she climbs up into the wooden platform just to have some peace and quiet. "The purpose of silence in the monastery is to be mindful of the presence of God," she said. "And, as human beings created by God in a world created by God, we're always in a sacred space wherever we are. I think that's the essence of monastic life."
CATTAILS IN Winter
by Sister Nancy Bauer, O.S.B.
She holds a bachelor's degree in journalism from the University of Minnesota, where she studied both photography and writing. And she has 20 years of experience in the field as a writer, photographer, and editor for the St. Cloud Visitor, the official newspaper of the Diocese of St. Cloud. "My goal when my term as prioress is up [in 2011] is to take a one-year sabbatical and spend most of it doing photography," she said. "I'd like to spend time on [Minnesota's] Gunflint Trail."
Bernardine Franciscan Sister Ruth Ann Rogozinski, O.S.F. has designed logos, banners, program covers, greeting cards, and newsletters for her community.
GREETING CARD DESIGN by Sister Ruth Ann Rogozinski, O.S.F.
PHOTO OF SAINT Francis
of Assisi for greeting card
by Sister Paula Marie
Nowak, O.S.F.
In addition to photography,
Sister Paula Marie Nowak, O.S.F.
teaches mathematics at Alvernia University in Reading, Pennsylvania and is director of initial formation for the Bernardine Franciscan Sisters.
Tags
Related
Most Viewed
Most Emailed
Comments