Lessons in love from central Brazil
Image: BRAZILIAN and U.S. sisters and associates minister in Santa Helena de Goiás in central Brazil.
IN 1963, THE SISTERS of St. Francis of Mary Immaculate—the Joliet Franciscans—answered a call to work in Brazil. Today, both U.S. and Brazilian sisters make up the community in Brazil. They work in parishes, run a school, and train health workers.

"They taught us to be happy with less, says one sister who came to Brazil from the United States 40 years ago—before paved roads. "The people with whom we lived and worked taught us to keep only what we really need, to use everything, waste nothing, spend time visiting, talking, and learning their values and ways of doing things.

That's why the sisters stay. They've learned to love the people and their ways.
THE SISTERS train
health care workers
to measure and weigh
children and track
their growth and
development
A PRAYER at their water
wheel is part of the sisters'
annual missioning ceremony.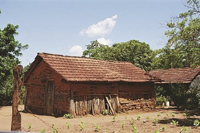 THE PEOPLE OF SANTO
ANTÔNIO da Barra live
in simple houses
close to the earth
and the elements.
SISTER MARIA
Nubia Fegueiredo
is a novice with
the Joliet
Franciscans.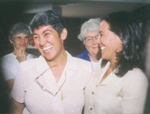 SISTER ROSE
Maria Lim (above)
congratulates
Sister Rita Cristina
after Sister Rita
made her final vows.
Tags
Related
Most Viewed
Most Emailed
Comments