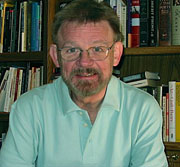 Father Larry Janowski, O.F.M.
A vocation to religious life can be large enough to leave room for other vocations—being a poet, for example.

Just ask Father Larry Janowski. A member of the Franciscans since 1968, Janowski recently published his first book of poetry, BrotherKeeper (Puddin'head Press), named for the book's poem about the death of a 5-year-old thrown from the 14th floor of a Chicago housing project for refusing to steal candy.

Janowski's work has earned him prizes, grants, fellowships, and residencies, and his poems have appeared in a number of literary magazines. He gives poetry readings and workshops on a regular basis and is also a contributor to a new literary journal, Fifth Wednesday. With master's degrees in both fiction writing and theology, Janowski is also an adjunct professor of English at Dominican University and Wilbur Wright College in the Chicago area.

On his way to becoming a poet, he says in an interview with the suburban Chicago Arlington Heights Post, "I had written poetry in high school and college and I remembered all the things I loved about poetry: the economy of language, the compression and the images. The fact that every word, every punctuation mark, every choice about a line break, all of those things are incredibly important. And yet your whole piece could be on a single page." After a while, he says, "I began to realize my religious background and training also contributed to the kind of poet I am."

Janowski does not so much consider himself a religious poet as a religious person who is a poet. "As with all people," he says, "I'm in a constant quest for spiritual meaning, for some heartbeat everyone shares. A poem, a good one, can allow you to see you are not alone—and that goes for the poet as well as the reader of the poem."

Speaking of his vocations as priest and poet, Janowski recently told Chicago Public Radio, "I think that a great deal of being a member of a religious order is to pay attention to people, to listen to them, to try to hear what they're saying, and also what they're not saying. And it seems to me that that is what poetry is all about. It's all about blessing people with a little bit of your own experience. In poetry we say, 'This is something that I have learned, or maybe something I haven't learned yet. Or this is something that has touched me, or something that I have lost.' "
---
Reprinted with permission from PrepareTheWord.com. ©TrueQuest Communications.