PODCAST: Celebrate and wake up the world!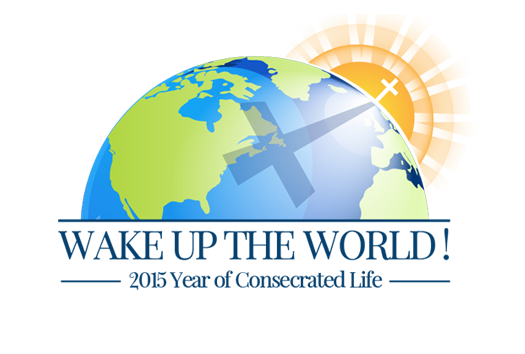 November marks the beginning of a year-long celebration of men and women religious. Pope Francis has declared the year 2015 be dedicated to consecrated life and he invites all of us to participate in this jubliant celebration. This year we are encouraged to explore our own vocations and summon the next generations of Catholics to "Be courageous!" Let's wake up the world! Let us all live, act, and grow in our own vocations.
There are three central keys we need to focus on to make this year one of stong vocations. First we need to "live radically!" We need to focus whole-heartedly on the significance of vocations in our homes, parishes, in our communites, and even in our world. Each one of us is called to inspire men and women from all over to answer their call and inspire them to discern their own vocation.
Second, this is a year of renewal for all those men and women who have already committed themselves to Christ. I want to ask that throughout this year we say a special prayer for all those who have answered the call. As you are renewing your committment to religious life this year, I pray that you maintain and hold firm in your committment to consecrated life and continue to work and grow serving the Lord. I also encourage you to invite others to explore their own vocations this year.
Finally, this is a year of appreciation and thanksgiving. I would like to give thanks for the witness and service of those already in consecrated life. Thank you to all the men and women who have guided us, taught us, inspired us, and aided us in our own faith formation. These men and women have given up everything to follow Christ and devote their lives to the establishment of God's reign through unceasing prayer, courage, and hope. We thank you and appreciate you!
I know you came here for the music, so as part of this special and blessed year, we have 15 songs of celebration to help launch the Year of Consecrated Life. Make sure to play these songs at all your dance parties, Vocation days, or whenever you need a little pick me up. Here are my top 15 songs of celebration to get this year rolling!
Our first song can be listened to by clicking
here
. It is called "Wake the World with Dawning Joy" by Steven Warner and the Notre Dame Folk Choir. Please enjoy!
Please enjoy these songs from Spotify! If you do not have Spotify yet, I have included the names of the songs that are featured in this playlist.
Songs featured in this podcast:
1. "Wake the World With Dawning Joy" by Steven Warner and the Notre Dame Folk Choir
2. "Celebration" by Kool and the Gang
3. "Beautiful" by Carole King
4. "Brave" by Sara Bareilles
5. "Happy" by Pharell
6. "Dare You to Move" by Switchfoot
7. "Walking on Sunshine" by Katrina and the Waves
8. "Do Something" by Matthew West
9. "Top of the World" by Imagine Dragons
10. "Hey, Hey, Hey" by Michael Franti and Spearhead
11. "I Just Want to Celebrate" by Rare Earth
12. "Joy to the World" by Three Dog Night
13. "Joyful, Joyful We Adore You" by Brad Corrigan
14. "When Love Gets a Hold of You" by Reba McEntire
15. "All Things New" by Rory Cooney and Gary Daigle
Comments